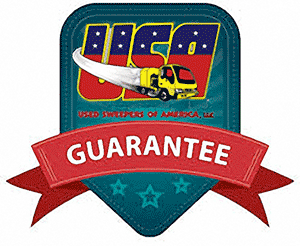 Our Guarantee to You
At USA, we deliver a level of customer benefits and satisfaction not often found in the equipment industry. We want you to be totally pleased with your purchase and your expectations exceeded throughout the transaction process. In that vein, we'd like to point out a few of the things we provide.

The sweeper unit that you choose from Used Sweepers of America, LLC will come as follows:
1) To be in good condition, roadworthy and ready to sweep.

2) To be warranted for a specified period, typically 6 months, but depends on specific model. This warranty typically covers the truck engine and transmission, the auxiliary engine and the entire sweeper unit.

3) To be guaranteed to perform in your specific application. If upon delivery the unit will not perform the job intended and as we have discussed thoroughly, you are not obligated to purchase that machine. You can keep that unit on site as a loaner unit and we'll apply your deposit to an adequate machine for the intended. We do not want you to purchase a machine that will not do the job you need it to.

4) If we personally deliver the sweeper to your loction or if you pick it up at our facility, you'll be supplied with training on both operation of the unit as well as sweeper maintenance.

5) Included at no additional charge, enrolled in our free loaner program. This program will supply you with a free loaner sweeper should yours have a catastrophic breakdown. This includes units not purchased from our company! (All loaner sweepers are based upon availability).

6) Included at no additional charge, a free loaner sweeper while your sweeper is on order, should it not be ready at time of order. (All loaner sweepers are based upon availability).

7) Customer references will be provided based upon request.