Do business with someone you can count on.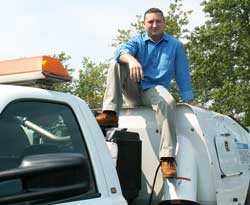 The president of Used Sweepers of America, LLC is Tommy Allen, who for many years was a 'fixture' at one of America's largest sweeper companies.
For 5 years, Tommy sold new and used sweepers as a part of that company's sales team. He was the sales leader for the last two of those years, which led to his promotion to manager of their direct sales team in April of 1996, a position he held until 2001.
Between then, and when he left the sweeper manufacturer in 2005, Tommy went on to head up the development of several special projects, reporting directly to the president. He also took over as manager of the company's used sweeper sales and refurbishment program, which is the largest in the country. In this position he evaluated literally hundreds of used sweepers prior to trade, and then directed refurbishment efforts prior to re-sale.
He also worked with that company's municipal sweeper dealers, gaining a knowledge of that side of the industry and those types of sweepers, as well. Now, as head of his own sweeping industry company, Tommy has brought an even higher level of service and a greater satisfaction level to his own customer base.
In Tommy's own words: "As a result of my many years with a leading national manufacturer, I believe I've seen and evaluated more used sweepers than any other person in America. Of equal importance is what I learned from talking with and getting to know all the contractors those machines belonged to. In addition to knowing exactly what to look for in a used sweeper, I also know what contractors want and need in a sweeper they're going to add to their fleet. "Because of the inherent 'wear and tear' in this industry, virtually every used sweeper in the marketplace has problems. Some of those are nearly impossible to see with an untrained eye. When you buy a sweeper from Used Sweepers of America, LLC, you can be sure every sweeper we have has been carefully evaluated from an expert point of view prior to us taking it in.
We also refurbish what we sell like no one else I'm aware of. That's why we can offer warranties on the units we sell, and why we can back our sweepers like no one else in the industry.
"I feel my experience is as strong as anyone's in the U.S. contractor market. With my knowledge of this group of people, it was a natural to start a company dedicated to providing the type of quality used sweepers I know they want and need. In my many years of experience, 99% of the used sweepers I've seen on the market by contractors have had serious items wrong with them.
It's a harsh business, and many sweeping contractors simply don't maintain their equipment like they should. This is especially true when they know they'll be replacing them soon. There's no question we provide much better value, quality -- and security of purchase -- than any direct sweeper purchase out there. All it will take is one look at our used sweeper line-up, and it's my belief you'll never again want to buy a used sweeper anywhere else."
In addition to heading up Used Sweepers of America, LLC, Tommy is active within the sweeping community, as well. He is a Discussion Forum Moderator at WorldSweeper.com, the most educational website in power sweeping, and a regular attendee of sweeping-oriented tradeshows.
Phone: (256) 541-2500
or Send Email
Quality you can count on at competitive prices.
Used Sweepers of America, LLC is your top choice for used sweeping equipment.
If you don't see what you need in our Sweepers section, give us a call to discuss your needs, or send us an email telling us what you're looking for.
Copyright © 2005 – 2019
Used Sweepers of America, LLC
All Rights Reserved.
---
Our Home Office is:
110 Springtime Blvd.
Huntsville, Alabama 35802